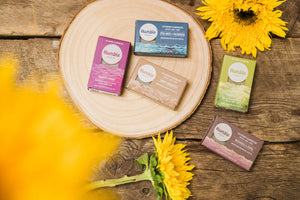 Super Moisturizing Bar Soap
Handcrafted with care to gently cleanse and sooth the skin.
Skin Loving Ingredients
Our cold-process bars are made traditionally with organic, plant-based whole oils slowly blended together to create exceptionally luxurious soaps. Even here in the high desert of Taos, NM, where moisturizing feels like a full-time job, our natural soap leaves skin feeling gently nourished and loved.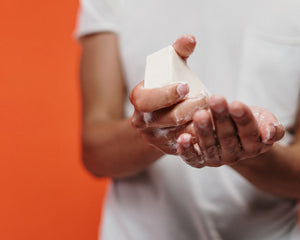 Simple Ingredients
No SLS, parabens, or artifical fragrance.
Unique Scents
Created from ethically sourced essential oils & botanical extracts.
&nbsp
Cruelty Free
Certified cruelty free by Leaping Bunny.

Biodegradable
People, ocean, & earth friendly, ingredients and packaging.

---
Cold-process is a true traditional soap made by saponifying plant-based whole oils. The final soap product is the result of the chemical interaction of fatty acids and lye. All lye is consumed in the saponification process, resulting in soap, water, and glycerin. During the four to six-week curing process, much of the water evaporates. The gradual cold-process method ensures natural soap-making ingredients, like coconut oil, shea butter, and olive oil are better preserved, resulting in a nourishing, skin-compatible soap.
Hot-process soap brings a much more immediate result, yet the benefits of the natural ingredients can be lost through the heating process.
Glycerin is a star ingredient in many personal care products. Classified as a humectant, glycerin is water-loving and draws moisture into the top layer of skin. When whole oils are made into soap via saponification, the result of this reaction is soap and glycerin. Our soaps qualify as "glycerin soaps" because glycerin accounts for 9-10% of the final product. Commercial soap makers remove this glycerin for sale or retain trace amounts so they can include it on their labels, but this is very different from keeping it all.
Our soaps are crafted with Organic plant-based oils and butters, including olive oil, certified Fair Trade shea butter, and certified sustainably-sourced palm oil. As with all of our products, we craft our scents from ethically sourced pure essential oils and botanical extracts.
No SLS, artificial fragrance or color, no gluten, no parabens, no animal ingredients. All ingredients are non GMO and cruelty free.
Although we cannot guarantee it, chances are, yes! Most skin sensitivities are aggravated by the synthetic ingredients in lotions, creams, make-up, and soaps - especially artifical fragrance. Without these ingredients, there is nothing left to irritate your skin. Many people who have had trouble with dermatologist recommended commercial soap, or "sensitive skin" soap, have found success with cold-process bar soap containing organic oils. This is because even doctor recommended sensitive skin soaps contain many unnecessary chemicals that can irritate your skin. We can't emphasize enough how important it is to always read the list of ingredients in your soap and learn what they mean.
Superfatting is a process by which soapmakers calculate soap recipes to have an excess of different oils in their soaps. The molecular structure of soap is designed to strip away oils, drying the user's skin, and formulating with a superfat counters this. Superfatting soaps does not make your skin oily. Rather, it allows the soap to clean effectively without drying out your skin.
No. SLS (sodium lauryl sulfate or sodium laureth sulfate), and other surfactants, are often added to soaps to increase lather quality or cut costs. They are commonly found in soaps, including many marketed as natural soaps, as well as glycerin soaps, liquid soaps, and shampoos.
As synthetic compounds, SLS and other surfactants dry out your skin and, for many people, cause irritation. We use neither SLS nor any other surfactants. Instead, we prefer to focus on producing a high quality soap from organic oils that doesn't depend on surfactants for its lather. We carefully balance the oils in our recipe to provide the proper fatty acid mix for a wonderful, rich-and most importantly-completely natural lather.
All soap, including Humble Brands soap, is made using lye. Sodium hydroxide (NaOH) is used to make all soap bars. In a properly produced soap, lye is a raw ingredient, but no lye remains in the final product. All lye is consumed in the saponification process and presents no danger to you. Superfatting further assures that all lye is consumed.
No. Our soaps are only scented with essential oils and botancial extracts. We never use artificial fragrances.
Our base formula contains only Organic oils. We use Fair Trade certified Organic shea butter for it's skin-loving properties, and source only from Certified Fair Trade (Fair for Life) suppliers.
From the supplier: This specific shea nut butter is not only Organic, but also Fair Trade Certified by Fair For Life, ensuring a level of quality is delivered and sustainable practices are in place. Fair For Life is a 3rd party certification agency that assures human rights are protected throughout every stage of production, workers experience fair working conditions, and farmers receive a fair wage of their output. Fair Trade benefits farmers by providing better resources and supports a high level of social accountability.
Our Organic palm oil is also certified as sustainably sourced. We use a number of different suppliers for our palm oil, and they are either certified by Palm Done Right or Rainforest Alliance. Palm oil is extremely high in fatty acids which plays out beautifully in our soap.
For the whole family
Organic & Non GMO Ingredients
Our natural soaps are handcrafted with love and our own families in mind. We use only organic, vegan, and non-GMO ingredients so our soap bars are friendly for even the most sensitive skin. Plus, the rich lather and tiny bubbles are fun for all ages.
planet Friendly
Biodegradable
Get back to nature, and bring your Humble Brands bar soap along. Our eco-friendly soap is biodegradable and free from triclosan, sulfates, parabens, synthetic fragrances, and other chemicals that are harmful to aquatic life. That said, it's a best practice to wash up at least 200 feet from any natural water source.
incredible scents
Get Carried Away, Naturally
Our transportive scents are made with ethically sourced pure essential oils and botanical extracts, never synthetic or chemical fragrances. You really can smell the difference!