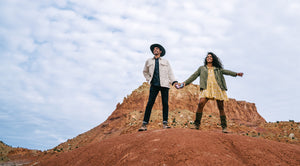 We're Passionate
About Living Well.
Our simple & true mission is to help people live better.
At Humble Brands, we honor the earth and our bodies by crafting products that are people and planet friendly. Based in the high desert mountains of Taos, New Mexico, our Humble Brands family is committed to helping people like you enjoy a cleaner lifestyle.
Less is more
Jeff Shardell's Mission
Stressed and overworked in his tech job, Humble Brands founder Jeff Shardell began rethinking his whole life—right down to the products he put on his body. When he learned that the deodorant he used every day was filled with harmful chemicals, he quickly switched to all natural. Unfortunately, everything he tried left him sweaty and smelling like perfume. Not to mention their ingredients lists were long and confusing. 
Determined to find a better, simpler solution, Jeff began experimenting with ingredients in his kitchen. His personal mission marked the birth of Humble Brands.
Simple & True
At Humble Brands, everything we make is crafted with the same less is more philosophy Jeff had at the outset.
Dive Deeper
Guaranteed
Our Products Really Work
Our products are designed to work as hard as you play. We select ingredients for high performance. We want you to love your Humble Brands products and offer a money-back guarantee.
Shop Fan Favorites
Better for you
& Our Planet
We honor the earth and our bodies with a less is more approach. We believe in only taking what we need and work hard to balance need and impact. Time and again, we have proven we can do so much more with less.
Sustainability Efforts
Giving back
People & the Planet
We strive to make actionable change by donating a percentage of our profits to organizations doing great work around the world. Through our partnership with 1% for the Planet, you can help us make a difference with every purchase of our products.
Our Contributions