Better for You & the Planet
The same Humble Brands deodorant you love in biodegradable packaging.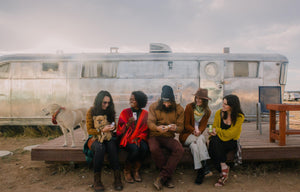 Nothing Bad®
No aluminum, parabens, dyes or artifical fragrances.
Balanced Scents
Uplifting & energizing to calming & soothing, our scents are crafted with essential oils & botanical extracts.
&nbsp
Goes on Smooth
Glides on with grace and ease. Never rough or crumbly.

Biodegradable
Earth friendly packaging that will break down in 2-5 months.

As if Humble could get any better?! charity: water is so proud to work with a brand that's truly dedicated to making the world a better place.

Anthony Marinos

charity: water
Marine plastics are a major threat to global waterways and the ocean. Consumers have the power to contribute to the solution! Supporting brands that value sustainability is imperative to keeping plastic out of the ecosystem and marine environment.

Tessa Code

Marine Researcher
Who doesn't love plastic free packaging, especially when it works - there's nothing better than my favorite scent packaged in the perfect way.

Donavon Frankenreiter
As a member of 1% for the Planet, Humble Brands takes responsibility for the health of our planet by donating 1% of annual sales to environmental nonprofits creating positive change. Thank you for your continued commitment to our planet!

Heidi McElvaney

1% for the Planet
A Plastic Free Alternative
Every single part of our paperboard package, right down to the lining and the ink we used to print the labels, is plastic free and biodegradable.
YES! Every bit, from the paper tube to the silica-derived liner and vegetable cellulose finish is biodegradable.
Our paper tube typically breaks down in 2-5 months, depending on environmental conditions such as temperature, air circulation, and moisture.
Nope! Some paperboard deodorant containers are lined with plastic, meaning they are not fully biodegradable. Our liner is made from a verified biodegradable plastic free liner.
Yes! Same great Humble Brands formulas and scents.
This is a great question. Really, it depends on YOU. If Humble Brands customers and other earth-conscious folks are as excited about eco-friendly packaging as we are, then we will certainly expand our scent options in the future.
While the product inside the tube is exactly the same as our other deodorants, the cost of the paperboard tube itself is responsible for the higher price. Biodegradable materials are special and simply cost more to produce. It's an investment you can feel good about though, as every purchase makes a difference.
Real World Change
Our plastic free deodorant is the next step in our mission to create sustainable body care products that are better for people & the planet.